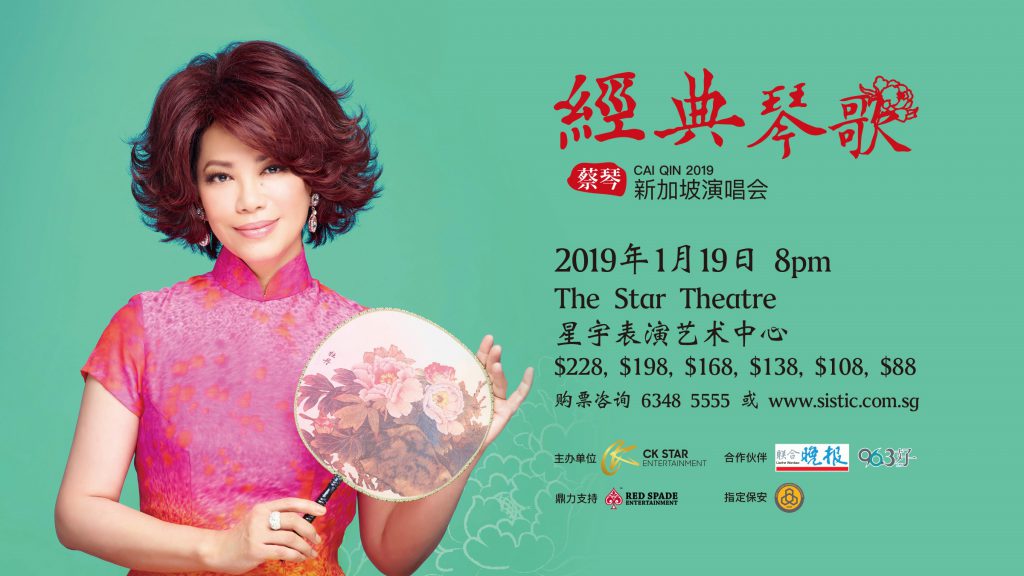 Cai Qin Singapore Concert 2019
Taiwanese starlet Cai Qin is coming back to serenade the audience in Singapore with her powerhouse vocals!
19 January 2019 | The Star Theatre
RED SPADE is a first-of-its-kind hybrid venue and event-planning house providing full-service event, tentage and large outdoor event staging and coordination, a dedicated staff and a distinguished network of marketing, public relations and logistic resources – all culminating from more than 10 years of experience. The group was set up with passion and vision to bring the music and cultural acts that represent the "Best of Asia" to Singapore via lifestyle concerts and festival concepts. A fusion of production services and management expertise, Red Spade meets the needs of clients, working with event planners to streamline event process. Red Spade leverages a Rolodex for all needs of event coordination including party rentals, sound systems, liquor and beverage packages and more.


Red Spade Entertainment Pte Ltd
Red Spade Events Pte Ltd
Red Spade Ventures Pte Ltd
Red Spade Ventures Sdn Bhd
HEAD OFFICE (SINGAPORE):
8 Ubi Road 2 #05-27 Zervex. Singapore 408538
Tel: +65 6636 8478 | Fax: +65 6636 8477
RED SPADE VENTURES SDN BHD (MALAYSIA):
10 Jalan Utama1/8, Taman Perindustrian Puchong Utama Sek 1
47100, Selangor